SMI Tom Hughes Collaboration Award
Tom Hughes was a long-recognized supply chain leader and tireless innovator, pioneer, and creator who was at the forefront of promoting the power of provider-supplier collaborations to create impactful and lasting positive change in the industry. The SMI Tom Hughes Collaboration Award has been established to recognize efforts that involve both supply chain trading partners successfully collaborating to bring innovation, discovery, and improvements to the healthcare supply chain.
The award recognizes members of the SMI community who have successfully collaborated to solve a problem together and achieved measurable results. Awards will be presented annually at the Fall Forum as determined by the Tom Hughes Collaboration Award Committee.  Many thanks to Steve Gundersen, Jim Francis, Matt Gattuso, and Dennis Orthman for volunteering their time to serve on this committee.
the FIRST INAUGURAL SMI TOM HUGHES COLLABORATION AWARD WAS PRESENTED ON OCTOBER 18TH, 2022…
congratulations to: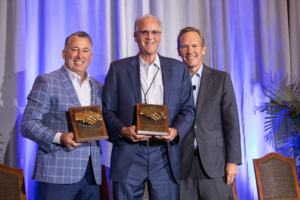 Pictured (left to right):  Dave Roberts, Senior Vice President & President, US Market at Medtronic, Tom Lubotsky, Vice President of Supply Chain at Allina Health and Steve Gundersen, SMI Board Chair. 
WATCH THE CEOS OF aLLINA HEALTH & MEDTRONIC CONGRATULATE THE WINNERS!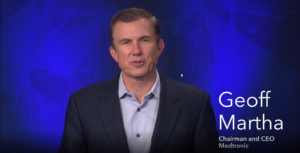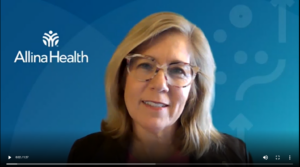 ---
SMI Tom Hughes Collaboration Award Honorable Mention goes to:
---
Tom Hughes Collaboration Award Application Details
AWARD ELIGIBILITY (To be considered for an SMI Tom Hughes Collaboration Award):
SMI provider and industry partner members are co-applicants in good standing who work collaboratively to solve a real-world problem or challenge
A single member organization of SMI that demonstrates consistent and innovative collaboration with their partners
An individual member who exemplifies the collaborative spirit and nature of Tom Hughes
A completed nomination form by August 15th
AWARD CRITIERIA:
Complexity of problem being solved
Effectiveness and ability to measure results/benefits
Sustainability of the collaboration
Identification of best practice and innovation for the industry
RECIPIENTS WILL RECEIVE:
SMI press release to industry media contacts and a PR template and photos for internal and external use
Forum registrations for additional members from each organization
Posting on the SMI web site
Exclusive invitation to share this collaboration story with the SMI community and more broadly with the healthcare supply chain
APPLICATION DEADLINE:
August 15, 2023 for Fall 2023