SMI Announces Northwestern Medicine and Casechek as 2023 Tom Hughes Collaboration Award Recipients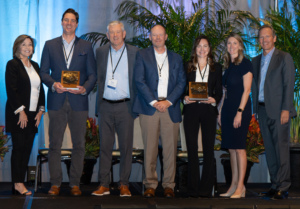 Kingston, MA (November 2, 2023):    SMI®, a non-profit, member-driven community of healthcare provider and industry partner organizations, awarded Northwestern Medicine and Casechek as the recipients of the 2023 SMI Tom Hughes Collaboration Award.  The announcement and presentation of the award took place at the SMI Fall 2023 Forum in Nashville.
The SMI Tom Hughes Collaboration Award is in honor of the late Tom Hughes, SMI Executive Director from 2004 – 2021.  This annual award, established in 2021, recognizes exceptional efforts of industry thought-leaders collaborating to bring innovation, discovery, and improvements to the healthcare supply chain. See https://www.smisupplychain.com/programs/thca/ for more information.
The Award Steering Committee chose SMI members Northwestern Medicine and Casechek for their collaborative partnership to co-develop a solution to the industry-wide challenge of processing and managing Bill-Only payments.  Northwestern Medicine and Casechek worked together to uncover and solve root problems through data analysis, user interviews, and process mapping. To ensure the new solution delivered value to both Integrated Delivery Networks (IDNs) and suppliers in the broader market, Casechek and Northwestern Medicine requested feedback from corporate executives at more than 25 IDNs and over 10 device suppliers.
The collaboration between Northwestern Medicine and Casechek to implement Bill-Only automation significantly impacted the Bill-Only process by aligning clinical and financial data. The automation of the Bill-Only process led to several cost-related improvements.
Award recipient, Gary Fennessy, Vice President, Chief Supply Chain Officer at Northwestern Medicine said, "having known Tom Hughes for many years, this award is truly an honor for Northwestern and for our supply chain team.  This award demonstrates the power of collaboration when two partners work together to solve a complex problem and what can be accomplished when you persevere through a difficult and challenging process."
Matt Brandt, CEO of Casechek, said, "With so many divergent and siloed stakeholders, systems, data, and processes, the rep-managed supply chain is not a problem any one organization can solve by itself. We believe that 'great products aren't built in isolation' and could not be more thankful for our fantastic collaboration partners at Northwestern. Together, we improved accuracy, eliminated errors and wastes, and streamlined processes to drive down administrative and supply costs to deliver procedural care."
In addition to Northwestern Medicine and Casechek, honorable mentions for the Tom Hughes Collaboration Award include Henry Ford Health System and Cardinal Health on improving price accuracy, Kaiser Permanente developing a transportation management system, Corewell Health and Medtronic developing an outcomes-based partnership program, and Stanford Health Care, Medline and GHX creating an automated substitution process.
To learn more about SMI and the Tom Hughes Collaboration Award, visit:  https://www.smisupplychain.com/programs/thca/
Pictured (left to right) Jane Pleasants, Executive Director, SMI; Matt Brandt, CEO & Founder, Casechek; Gary Fennessy, Vice President & Chief Supply Chain Officer, Northwestern Medicine; Mike Hopkins, Vice President of Supply Chain Distribution & Logistics; Betsy Wormet, Senior Vice President, Marketing, Casechek; Alisha Beringer, Director of Supply Chain Distribution and Logistics, Northwestern Medicine; and Steve Gundersen, SMI Past-Chair.
– ### –
ABOUT SMI
SMI provides a nexus for healthcare providers, suppliers, and distributors to network and collaborate on innovations that drive meaningful improvements in supply chain agility, efficiency, and resilience. We provide a unique, non-commercial community where members forge long-term relationships as they work together to improve patient care. For more information about SMI, including a complete list of members, visit:  www.smisupplychain.com.