SMI Announces Allina Health and Medtronic as inaugural Tom Hughes Collaboration Award Recipients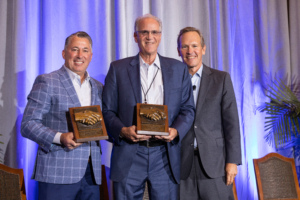 Kingston, MA (November 1, 2022):    SMI®, a non-profit, member-driven community of healthcare provider and industry partner organizations, announced Allina Health and Medtronic as the recipients of the first SMI Tom Hughes Collaboration Award.  The announcement and presentation of the award took place at the SMI Fall 2022 Forum in Scottsdale, AZ, on Tuesday, October 18, 2022.
This newly established annual award is in honor of the late Tom Hughes, SMI Executive Director from 2004 – 2021.  Hughes was a passionate, long-time supply chain leader, tireless innovator and pioneer who was at the forefront of promoting the power of provider-supplier collaborations to create positive change in the industry.
The Tom Hughes Collaboration Award Committee chose SMI members Allina Health and Medtronic for their collaborative efforts that went above and beyond traditional transactional relationships to positively impact patient care.  These two organizations have a long history of collaboration, and during the early days of the pandemic, they demonstrated how a large hospital system and medical device company could work together to redeploy resources to meet the demand of surge planning and preparedness during the COVID-19 crisis more effectively.
As high volumes of infected patients flooded the healthcare system, causing concern for healthcare workers, Allina Health and the Emergency Physicians Professional Association (EPPA) partnered with Medtronic to redesign a COVID-19 patient flow and a healthcare worker (HCW) safety process. The result was an Enhanced Traffic Control Bundling (eTCB) protocol that was made widely available and ultimately implemented in 18 emergency departments, nine Med/Surg units and nine ICUs across five health systems in Minnesota in just 30 days.
Award recipient, SMI Board member, and Vice President of Supply Chain at Allina Health, Tom Lubotsky said, "It is an honor to receive the inaugural Tom Hughes Collaboration Award with our partners at Medtronic.   Having known and respected Tom Hughes for many years, it is a tremendous privilege to continue his legacy and passion for working together to solve industry problems through collaboration.   I am personally committed to continue fostering true strategic partnerships that put our teams and patients first."
In addition to Allina Health and Medtronic, honorable mentions for the Tom Hughes Collaboration Award include Concordance Healthcare and the County of Los Angeles Public Health who collaborated on the distribution of COVID-19 vaccines for Los Angeles County; Mass General Brigham and GCB Medical Supply who collaborated on locating isolation gowns during the pandemic; and Legacy Health and Medline for their partnership to forecast key supplies based on surgical volumes – this work started during the COVID-19 surge and continues today.
To learn more about SMI and the Tom Hughes Collaboration Award, visit:  https://www.smisupplychain.com/programs/thca/
Pictured (left to right):  Dave Roberts, Senior Vice President & President, U.S. Market at Medtronic, Tom Lubotsky, Vice President of Supply Chain at Allina Health, and Steve Gundersen, SMI Board Chair.
– ### –
ABOUT SMI
SMI provides a nexus for healthcare providers, suppliers, and distributors to network and collaborate on innovations that drive meaningful improvements in supply chain agility, efficiency, and resilience. We provide a unique, non-commercial community where members forge long-term relationships as they work together to improve patient care. For more information about SMI, including a complete list of members, visit:  www.smisupplychain.com.