SMI's Advancing Women Leaders Program Inspires Women to Reach New Heights in Healthcare Supply Chain
Kingston, MA (March 8, 2023):    SMI®, a non-profit, community of healthcare supply chain organizations, has launched a ground-breaking leadership program called Advancing Women Leaders (AWL).   This first of its kind program brings together a mentor, sponsor and mentee pairing from SMI member organizations for the advancement of women into senior level supply chain roles. In recognition of International Women's Day, SMI is celebrating the dedicated mentees, sponsors and mentors that are part of this unique program.   Learn more about this program here.
SMI's Advancing Women Leaders (AWL) program intends to close the gender gap by guiding aspiring women to leverage their networks, working alongside a sponsor and mentor in unison, to create a more diverse healthcare supply chain.  SMI members nominate a mentee, a rising leader from their organization, and as their sponsor, provide internal support within their organization.  Mentees are then paired with a mentor – a senior healthcare supply chain leader from SMI's membership – who provides guidance for career advancement.
SMI has partnered with the McGuckin Group, a talent-innovation firm, to develop this first of its kind program, which includes one-on-one mentoring, networking, peer-to-peer learning, workshops, and self-assessment tools.
SMI Board Member and Mentor Lisa Hohman, CEO of Concordance Healthcare Solutions, said, "This program allows the leadership of SMI a chance to give back while elevating women in healthcare supply chain.  It is our way of providing support to one another and making sure women feel heard and empowered during their career journey."
Mentee Sarah Charai, System Director, Supply Chain Operations from Allina Health said, "this program has allowed me to meet and network with talented women who are all facing similar challenges and desire for career development.  Being able to ask questions and share insights during one-on-one time with my mentor and with the other mentees has been invaluable to me."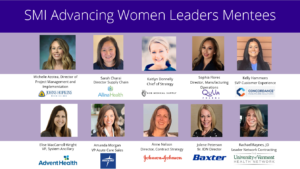 The first cohort includes 10 mentees who will complete the program this October at which time, SMI will launch the next group of mentees, mentors, and sponsors.
To learn more about SMI, its programs, and its community of members, visit:  www.smisupplychain.com
– ### –
ABOUT SMI
SMI provides a nexus for healthcare providers, suppliers, and distributors to network and collaborate on innovations that drive meaningful improvements in supply chain agility, efficiency, and resilience. We provide a unique, non-commercial community where members forge long-term relationships as they work together to improve patient care. For more information about SMI, including a complete list of members, visit:  www.smisupplychain.com.