Advancing Women Leaders Program
SMI has launched a new ground breaking leadership program called Advancing Women Leaders (AWL). This first of its kind program will bring together mentors, sponsors, and mentees from SMI member organizations for the advancement of women into senior level supply chain roles.
Despite women accounting for 51.1% of the U.S. population, women currently only account for 15% of leadership roles in supply chain. This new program intends to close this gap by guiding women in leveraging their networks while Sponsors and Mentors will work to change the system to a more inclusive and diverse landscape.  The first cohort of mentees began this 12-month program on July 1, 2022.
As part of this ongoing program, SMI members will nominate a mentee and participate in the program as their Sponsor.  SMI Members will serve as mentors, providing the mentee an opportunity to learn from these successful women in healthcare supply chain.  Through this structured, first of its kind program, SMI will build a framework for mentoring women in supply chain while creating metrics and measurements to ensure success!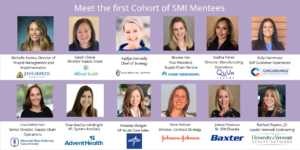 Program Overview
SMI Members will nominate a mentee and participate in the program as their sponsor
A cohort of mentees will begin the 12-month program on July 1
SMI Members will act as mentors, providing the mentee an opportunity to learn from these successful women in healthcare supply chain
Mentees will attend Forums to expand their network among the industry's top thought leaders
This program leverages the resources of the McGuckin Group
What Makes This Program Unique
Mentees have a unique opportunity to learn from successful women in the healthcare supply chain
Mentees participate in SMI Forums to expand their network among the industry's thought leader community
This program brings women from healthcare providers and industry partners together
The Sponsor and Mentee are from the same organization
This program utilizes resources from the McGuckin Group
This program provides training and mentoring customized for future healthcare supply chain executives
What Makes a Good…
Mentor
Experience
Character
Similar Goals
Open Mind
Caring Attitude
Optimism
Believe
Honesty
Sponsor
Understanding
Competence
Credibility
Commitment
Engagement
Mentee
Director level
Connected to serving the customer or supply chain
Motivation to succeed
Time management skills
Positive attitude
Respect
Honesty
Clear communication
Confidence
Willingness to learn and receive feedback
Nomination Criteria
Sponsor and mentee must commit to this 12 month program
SMI Board member mentors will review all nominations and make a recommendation for first cohort of 10 mentees
If a nomination is not chosen for the first cohort, they will be considered for future cohorts
Deadline to submit is May 2nd
Mentees will be balanced with 6 providers and 6 industry partners