SMI Announces Seven Members Celebrating 10 Years of Membership
Kingston, MA (November 17, 2022): SMI®, a non-profit, member-driven community of healthcare organizations, announced seven members who are celebrating 10 years of membership. At the SMI Fall 2022 Forum in Scottsdale, Abbott, Avera Health, HonorHealth, Kaiser Permanente, MedSpeed, Northwestern Medicine and Ochsner Health System received their awards onstage in front of fellow members and invited guests.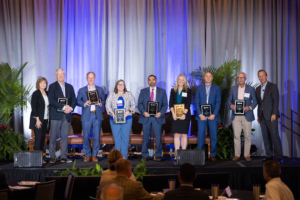 These seven members are an integral part of the SMI community which consists of over 140 provider and industry partner organizations who work together to transform the healthcare supply chain. Members work on important issues that drive change in the industry to improve supply chain performance and resilience for better patient care.
A donation will be made in honor of these 10th anniversary members to the SMI Emerging Leaders Scholarship fund so that future leaders can attend Forums to enhance their career through networking and learning from the industry's top supply chain leaders.
SMI Board member Mary Beth Lang, Senior Vice President and Chief Pharmacy Officer from Kaiser Permanente said, "It's been an honor to be part of SMI for the past 10 years, and to see the organization grow and evolve. I thoroughly enjoy working alongside this community of leaders who all play a critical role in making our industry better."
Sara Henderson, Vice President of Supply Chain from Avera Health said, "SMI is the place where I go to learn from my peers to tackle important issues with trading partners. Over the years, it's where I've been able to build relationships that directly impact the day-to-day operations of Avera's supply chain and how we continuously improve."
To learn more about SMI and its community of members, visit: www.smisupplychain.com
Pictured (left to right): Jane Pleasants, SMI Executive Director, Gary Fennessy, SMI Board member and Chief Supply Chain Officer at Northwestern Medicine, Jake Crampton, Chief Executive Officer at MedSpeed, Mary Beth Lang, SMI Board member, Senior Vice President and Chief Pharmacy Officer at Kaiser Permanente, Ryan Kirane, AVP Operations I Sustainability Officer at HonorHealth, Sara Henderson, Vice President of Supply Chain at Avera Health, Terry Preston, Vice President, Enterprise Accounts at Abbott, Mark Muller, SVP, Strategy & Business Development at Ochsner Health System, Steve Gundersen, SMI Board Chairman.
– ### –
ABOUT SMI
SMI provides a nexus for healthcare providers, suppliers, and distributors to network and collaborate on innovations that drive meaningful improvements in supply chain agility, efficiency, and resilience. We provide a unique, non-commercial community where members forge long-term relationships as they work together to improve patient care. For more information about SMI, including a complete list of members, visit: www.smisupplychain.com