SMI Creates Maturity Model and Playbook to Drive Resiliency Planning Across the Healthcare Supply Chain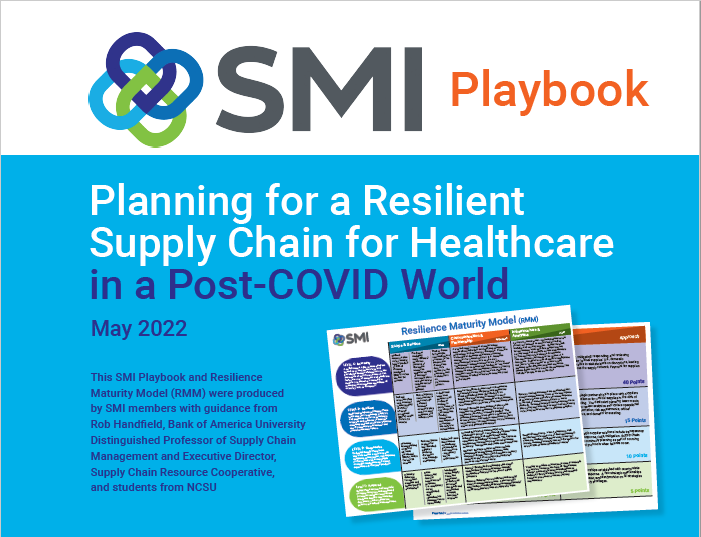 Kingston, MA (June 8, 2022): SMI®, a non-profit, member-driven community of healthcare supply chain organizations, today released a new Resilience Maturity Model (RMM) and Playbook to help the industry be better prepared and mitigate risk for future potential disruptions.  This robust resilience maturity assessment tool was created by the SMI Resilience and Transparency Council led by Amanda Chawla, Chief Supply Chain Officer from Stanford Health Care and Alan Mavis, Director, Integrated Delivery Networks from Baxter. The RMM and Playbook can be downloaded, free of charge from the SMI website here.
As healthcare organizations look to stabilize and strengthen their supply chains for future disruptions, SMI members have created this framework based on four maturity levels including preparedness, responsiveness, resiliency, and collaborative immunity.  Although the model is designed as aspirational, the RMM provides structure to organizations so users can develop their own preparedness playbook now.  This new resource also includes a scoring mechanism to measure current progress and to develop plans to achieve even higher levels of resilience over time.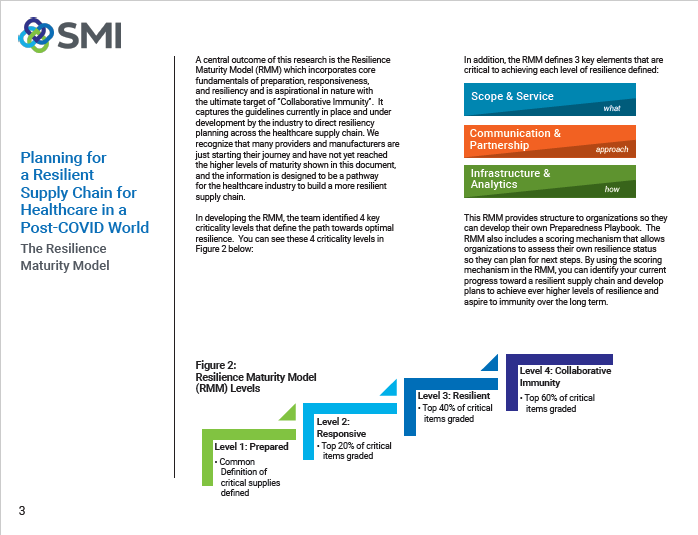 Through data and interviews collected by the SMI team and North Carolina State University (NCSU) students, this new model encompasses the criticality, risk mitigation, workforce requirements, partnerships, data, and analytics required to achieve a collaborative, agile, and mature healthcare supply chain program for the future.  Rob Handfield, Professor of Supply Chain Management and Executive Director, Supply Chain Resource Cooperative, provided resources and expertise to help create these tools.
According to Nancy Anderson, SMI Associate Executive Director, "the SMI Playbook and Resilience Maturity Model is the result of work conducted over the last 14 months based on experiences and intelligence from SMI members which include healthcare providers and academic medical centers, as well as suppliers/manufacturers/distributors of healthcare products and services.  Team leaders Amanda Chawla and Alan Mavis expertly guided the team of over 40 SMI members and collaborators to create a tool that will support healthcare organizations regardless of where they are on their resilience journey.  SMI is especially grateful to Rob Handfield and the students at NCSU for their support and dedication to this project."
As with every tool created by SMI, this RMM and Playbook are available, at-no-charge on the SMI website, along with over 30 tools and solutions made available to the industry on topics that include the perfect order, virtual relationship management, value analysis, vendor credentialing, demand planning, and much more!  Visit the SMI website to learn more: www.smisupplychain.com.
– ### –
ABOUT SMI
SMI provides a nexus for healthcare providers, suppliers, and distributors to network and collaborate on innovations that drive meaningful improvements in supply chain agility, efficiency, and resilience. We provide a unique, non-commercial community where members forge long-term relationships as they work together to improve patient care. For more information about SMI, including a complete list of members, visit:  www.smisupplychain.com.