SMI Celebrates 10-Year Anniversary Members
Kingston, MA (May 11, 2022): SMI®, a non-profit, member-driven community of healthcare supply chain organizations, celebrated six members who achieved the milestone of 10 years of membership. At the SMI Spring 2022 Forum in Orlando, Concordance Healthcare Solutions, Cook Medical, Smith & Nephew, Tecsys, University of Pittsburgh Medical Center (UPMC), and W.L. Gore & Associates were honored in front of 180 SMI members and guests.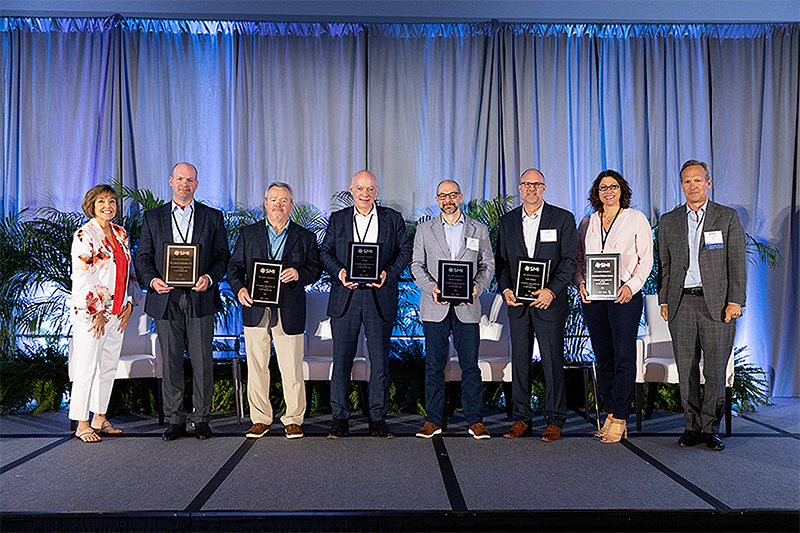 These six members have worked alongside their peers as part of SMI initiative teams to move the healthcare supply chain industry forward with real transformational change. SMI members also meet twice per year at Forums to discuss industry challenges and share learnings and best practices.
SMI will make a contribution in the name of each 10-year anniversary member to the SMI Emerging Leader Scholarship. This scholarship will be awarded to emerging leaders in the healthcare supply chain field who will be invited to participate in SMI Forums to enhance their career by networking and learning from the industry's top supply chain thought leaders.
Lisa Hohman, CEO of Concordance Healthcare Solutions and SMI Board Member said, "We are so proud to be part of this distinguished group of leaders who work to make impactful change in our industry. Concordance is honored to be a long-time member of SMI – where important and necessary conversations take place to create real-world solutions."
Peter Brereton, CEO of Tecsys said, "So many changes have taken place over the last 10 years and SMI continues to be an unwavering resource where work gets done to move the industry forward. I have always greatly valued my time, participation, and interaction with the leaders of SMI."
– ### –
ABOUT SMI
SMI provides a nexus for healthcare providers, suppliers, and distributors to network and collaborate on innovations that drive meaningful improvements in supply chain agility, efficiency, and resilience. We provide a unique, non-commercial community where members forge long-term relationships as they work together to improve patient care. For more information about SMI, including a complete list of members, visit:  www.smisupplychain.com.