SMI Announces Priorities for COVID-19 Recovery in Executive Briefing & White Papers
Westborough, MA (August 31, 2020): SMI®, a non-profit, member-driven community of healthcare supply chain thought-leaders recently announced a new executive briefing and 5 corresponding white papers on the strategic priorities needed moving forward for the healthcare supply to continue to respond to the COVID-19 pandemic. This new resource is part of the COVID-19 toolkit, available to the industry at no-charge on the SMI website (www.smisupplychain.com/tools/smi-toolbox/).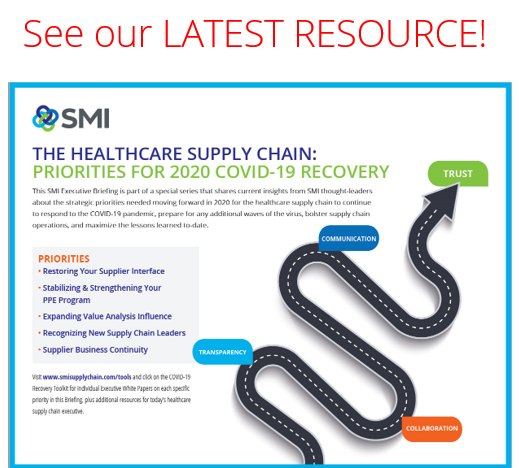 Through collaborative work, a team of SMI members, all supply chain thought leaders from integrated healthcare providers, suppliers, manufacturers and distributors, determined 5 strategic priorities that will help the industry prepare for any additional waves of the virus, bolster supply chain operations, and maximize the lessons learned to-date. The strategic priorities are: (1) restoring supplier interfaces; (2) stabilizing and strengthening PPE programs; (3) expanding value analysis influence; (4) recognizing new supply chain leaders; (5) supplier business continuit
SMI Board Member and Chief Supply Chain Officer at BJC HealthCare, Tom Harvieux said, "these strategic priorities are based on insights from SMI members that focus on transparency, provider and supplier collaboration, communication and innovation. The SMI team wanted to quickly deliver a resource for the healthcare supply chain industry that sets priorities and outlines actions for organizations responding to COVID-19 and beyond."
The SMI Priorities for COVID-19 Recovery Executive Briefing and Corresponding White Papers can be downloaded, at no charge, on the SMI website at: www.smisupplychain.com/tools/smi-toolbox/ as part of the COVID-19 toolkit. SMI members have created over numerous tools and resources to help create a more resilient healthcare supply chain which are available, free of charge to the industry. To learn more about SMI, its mission, and its members, visit: www.smisupplychain.com.
– ### –
ABOUT SMI
SMI provides a nexus for healthcare providers, suppliers and disruptors to network and collaborate on innovations that drive meaningful improvements in supply chain agility, efficiency and resilience. We provide a unique, non-commercial community where members forge long-term relationships as they work together to improve patient care. For more information about SMI, including a complete list of members, visit: www.smisupplychain.com.